Encore is fortunate to be located in Richfield in the beautiful Sevier Valley of central Utah. Working so closely to our homes and families brings a certain satisfaction to us which translates into motivated technicians. We love what we do and where we do it.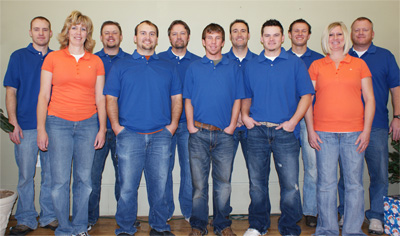 Our Team
Front row: Heidi, Tony, Clint, Ben, Robyn
Back row: Steve, Shane, Joe, Gregg, Whitney, Tracy
We provide local pickup and deliver in the Las Vegas area on a daily basis.
Tracy Johnson, CDT, Ceramist.
With over 20 years of lab ownership and 15 years of experience training technicians, you can be confident that he has the knowledge and expertise to serve your restoration needs. His has extensive training in esthetics and implants. He is the father of 5 and enjoys coaching all of his kids in sports.
"My philosophy is that 'price should not dictate quality'. We do beautiful work at very competitive prices. As the owner, I believe that positive employees are more likely to do quality work. I strive to provide a workplace that brings professional and personal fulfillment. I'll put my team against any team out there." TJ
Gregg Thompson, Ceramist.
Having spent 15+ years serving dentists as a ceramist, Gregg brings enthusiasm and "attention to detail" to dental restorations. He is also Director of Marketing with the same drive and energy. He is well versed in the types of restorations that you want to provide in your practice including implants. Gregg is the father of 3 and enjoys hunting, golf, and sports
"I have built my career on my attention to detail from start to finish. To watch a case go through the process from prep to seat is professionally satisfying. I'll take care of you a and I'll get it right." GT
Robyn Taylor, Laboratory Coordinator.
She is your contact for all issues and will direct you to the solution to your concerns. She is happy to assist you in scheduling cases, shipping supplies and just about anything you throw her way.
"I'll do what I can to help you get the cases you need when and how you need them." RT
Shane Lamb, Nevada Coordinator.
A trained technician, he provides daily pickup and delivery in the Las Vegas area.
"Give me a call. I would be happy to come and meet you." SL